Goal 5: Develop, enhance, and align business processes
KPI 5.1: Composite Financial Index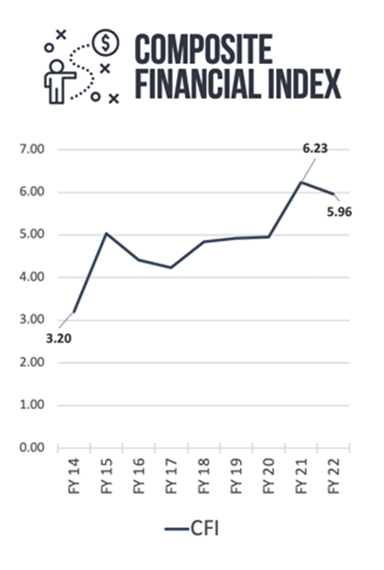 The Composite Financial Index paints a composite picture of the financial health of the institution at a point in time. The Index is built with the values of its four component ratios:
Primary Reserve – a measure of the level of financial flexibility
Net Income Ratio – a measure of the operating performance
Return on Net Assets – a measure of overall asset return and performance
Viability – a measure of the organization's ability to cover debt with available resources
Once each of the four ratios are calculated, there is an additional process measuring the relative strength of the score and its importance in the mix of creating a composite score. This results in the production of one weighted score for each indicator and when added together the result is the Composite Financial Index.  The strength factors and CFI score are standardized scores that fall along a scale of -4 to 10.  
A CFI score of 3 is the threshold of institutional financial health.
Back to KPI Dashboard